Get Insights on Interior Lighting
Ellie Cullman & Lee Cavanaugh Explore the Options
Read What Ellie Cullman and Lee Cavanaugh Have to Say:
New York-based interior design firm Cullman & Kravis principal Ellie Cullman joins partner Lee Cavanaugh. From Cullman's apartment, the duo discusses interior lighting.

Cavanaugh shares insights around the existing lighting in Cullman's apartment, illustrating how lighting should be layered in a room. Starting with a chandelier, which serves as a focal point in the room, moving along with bookcase lights, lighting around the wall art and even lights installed in the upper header area of the room's windows – dubbed "happy lights." Combined, the lighting creates a warm glow that complements each individual in the room.

According to Cullman, you should avoid direct down lights. "They make everybody look much older, they accentuate wrinkles, if someone has them. And that's why we do layered lighting. And a technical tip–LEDs are great because they are long lasting and don't have to be changed out as frequently as the old-style light bulb."

Cavanaugh expands on some common lighting mistakes. "People put a million down on lights in a ceiling and not only does it look like Swiss cheese, but it creates a dark gray look on the ceiling that nobody would want. And it produces a harsh light. You don't want anything shining right on you or on the space. In this scenario, less is more. It's just for accents. Again, there aren't dark corners, dark areas, but you want everything to be illuminated equally. We also find with recessed ceiling lights, installing one center ceiling fixture is becoming overlooked."
Choosing the Perfect Light Fixture
"The overhead chandelier is really your insurance policy," shares Cullman. "For example, say you didn't lamp up properly and evenly throughout a room, an overhead chandelier will add that general illumination.

"Chandeliers are so exciting today because they come in so many different forms. We use a lot of antique chandeliers, in crystal, wood, various metals. And the same for contemporary versions in many of those materials as well. One lighting direction that has emerged over the last few years is the desire for the long linear fixtures that are featured in many projects, featured in various shelter magazines. Obviously, this type of fixture is great over a kitchen island, a long breakfast table. We use a lot of them over billiards tables. Emerging lighting directions provide more tools in a designer's toolbox, making your designs that much more interesting."

Cavanaugh shares that she is a strong advocate for mixing up the lighting in your overall design plan–if you have a chandelier with arms in one room, have a dish in another room, a ball shape in another, or multiple pendants. Take advantage of the shape of the space. If your dining room is a square, put a round table with a big round ball over it, or if your breakfast table is a long rectangle, make it linear. "It's nice to go from one space to another with a different message from each light that you're using," notes Cullman.

"This same advice goes for sconces as well," says Cavanaugh. "If you're going down a long passage or a hallway, have a row of sconces. If a smaller vestibule, have two sconces, and for other halls or passages install pendant lighting. Just mix it up so nothing is monotonous or cookie cutter."
Lamp Placement and Harmony
Cavanaugh further discusses how Cullman & Kravis approaches lamp placement. "We prefer lamps to be between 27 inches to 30 inches off the top of the table surface. This allows for the most functional use of a lamp, to read a book. With today's modern designs, which we embrace, there are very tall lamps, often higher than six feet tall. And we like to use these for accent spaces. For example, we used one recently in an entrance hall up in Massachusetts. It had an exciting architecturally sculptural element, so appealing to the eye but not to read a book by. For us, function is primary with aesthetics seamlessly integrated into the overall design."

Cullman shares their approach on lampshade harmony. "I recommend those interested to look at our first book in which we cover lampshade harmony, which is to say, you don't want one dark green lampshade next to a white lampshade, cream lampshade, whatever, which we prefer because you get more light out of it. Quite a bit ago, the preference was for dark lampshades heavily trimmed. Today, that look is not modern enough. even in an environment where we're using very interesting period antiques."

Cavanaugh added that it is important to be cohesive with lamps, while there may be different materials, different styles in one room, the lampshades have to work together, giving the same message so it's not confusing to one's eye.

"Lighting is key in any interior design project," says Cullman. "You can have a room with beautiful fabrics, beautiful antiques, but if it's not lit well, you've lost the battle. I recommend paying close attention to all the considerations you should have in lighting. I'm also going to recommend, again, that one pick up our first book, Decorating Master Class, where lighting is addressed in its own chapter."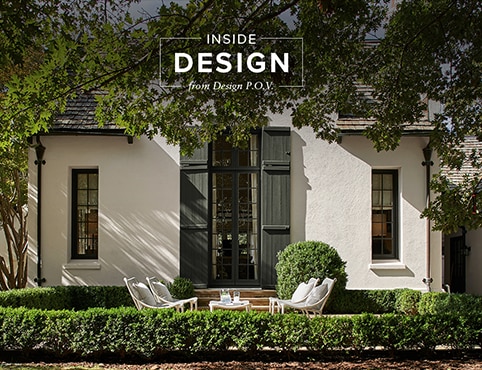 Inside Design
Explore distinct design topics from the interior designers featured on this page.
SEE VIDEO SERIES